Reading Leveling is a type of assessment that measures student reading levels. In many schools that use ThinkCERCA, the Reading Leveling assessments are delivered by ELA teachers at the beginning of the year. Teachers can assign three leveling assessments – below, at, and above grade level – to confirm student reading levels. This information will be used to differentiate Writing Lessons for students later on.
How to Assign Reading Leveling
Follow these steps to assign Reading Leveling assessments:
Select "Assessments" in the main menu bar

Select Reading Leveling and you will be taken to the Benchmark Assessments page.
Under the tab labeled "Beginning of Year," the Reading Leveling assessment is listed at the bottom of the page.

Select a class under the drop-down menu on the right of the page.
When the Reading Leveling assessment is assigned, each student in the class will receive three texts to read and answer multiple-choice questions about. By default, the students will receive one text at their grade level, one text at one grade level above, and one text at one grade level below. If you teach a seventh-grade class, for example, you will be prompted to assign three texts leveled at grades 6, 7, and 8.

Assessment levels can be changed with the "Adjust assessment level" link. Individual students can also receive a leveling assessment, rather than the whole class.

Select a due date and click "Assign" to complete the Reading Leveling assignment process.
How to Analyze the Data from Reading Leveling
Once students have completed their Reading Leveling assessment, you can view student data on the Reports page.
ThinkCERCA's leveling assessments provide two kinds of data about student performance:
Applied Practice indicates a student's ability to apply a literacy skill to a text.

Background Knowledge indicates a student's level of familiarity with the background knowledge needed to understand the text.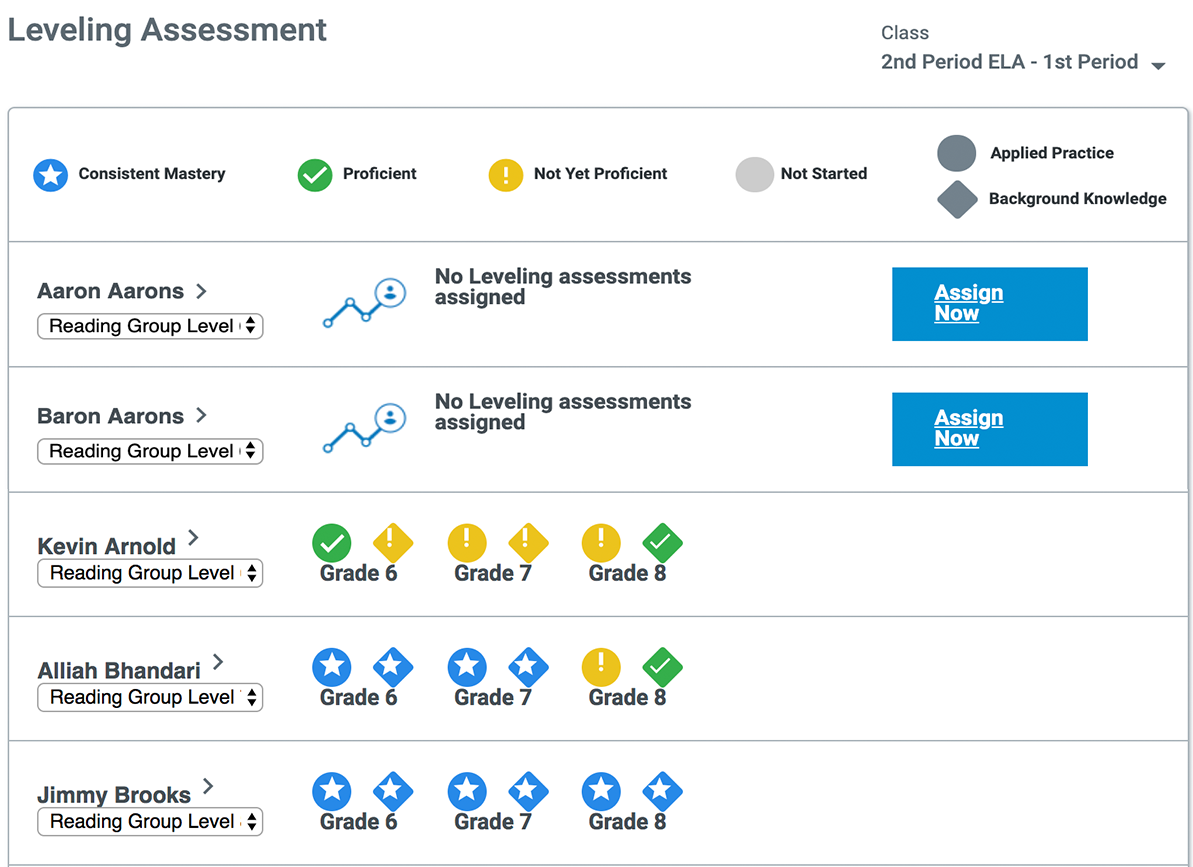 When analyzing student leveling data, look first at Applied Practice, and use Background Knowledge for context. If a student achieves "Not Yet Proficient" in Background Knowledge, that may indicate that he or she did not have the level of familiarity with the Background Knowledge to successfully access the text. In such a case, the Applied Practice score may not accurately reflect the student's ability level.
How to Level Students Using the Data from the Reading Leveling
You should always use your professional judgment, personal observations, and any student information, such as previous levels or testing data, in addition to ThinkCERCA's leveling data, to gather a well-rounded understanding of your student and help you with the leveling process.
Scores of "Consistent Mastery" may indicate that a student should be assigned to a higher reading level. Reading Levels can be adjusted with a dropdown beneath the student's name on the Leveling Assessment report page.
Similarly, scores of "Proficient" may indicate that the student is at the correct level of challenge, and scores of "Not Yet Proficient" may indicate that the student should be assigned to a lower level. Outlier scores should be disregarded.
Learn more about adjusting student Reading Levels >>
Continue to Check-In
Regardless of the initial placement of your students, remember that it is important to review data on a regular basis. The best practice is to review data and adjust the level of students (as needed) after every two Writing Lessons. Use what you know about the context as well as the data to decide if you should maintain a student's level, level them up, or level them down. The Reading Levels affect which differentiated Writing Lessons students receive.