Teaching Remotely? Check out videos you can send to students to watch independently:
6 e-Learning Videos on:
We know the world's next innovators, engineers, leaders, and artists are sitting in your classroom. How can we best prepare them for the unknown challenges of the future? We see critical thinking as a catalyst for change. ThinkCERCA helps prepare students for the 21st century by building thinkers who can analyze a problem, propose solutions, and articulate their point of view effectively.
A Common Language
When a common language is used across disciplines, students gain a deeper, more consistent understanding of the material and it furthers their ability to communicate fluidly across content areas and their lives beyond the classroom.

ThinkCERCA's research-based literacy framework, CERCA, provides students with a research-based approach for engaging in the writing process – no matter the discipline. With CERCA, writers learn how to:
State their Claim and reason(s)
Support their claim with Evidence
Explain their Reasoning by linking the evidence to the claim
Address Counterarguments
Use Audience-appropriate language
Introducing the CERCA Framework
There are two key parts to ThinkCERCA:
a framework for critical thinking

The ThinkCERCA Platform

a tool to help them master and apply the framework
Start with Real Life Examples
We highly recommend starting by teaching the CERCA Framework first, and starting offline in ways that honor the students' prior knowledge and experiences.
To introduce the CERCA framework, a best practice is to start with a real life example that they can readily grasp. Here are some resources that can help:
| | | |
| --- | --- | --- |
| | | |
| worksheet for students | video for students | lessons to introduce CERCA |
Starting with an overview of CERCA then diving into each component more deeply, sets students up for success.
If CERCA is being used across content areas, it is recommended that teaching teams communicate who will teach the overview of CERCA and the deep dive into each component over time. Generally, this is the English Language Arts teacher because these components are most tightly tied with their standards.
The Framework can be taught with our Direct Instruction and Skills Lessons on the platform, our eLearning videos, real-life examples, and icebreakers. These various ways of teaching the framework should be cycled back into instruction regularly (could be once a week, once a month, etc.). Here we have outlined a two-week lesson plan to help get you started.
CERCA Across Disciplines
Once the foundation of the framework is set, any other content area teachers can then apply the framework in their classes. There are nuance differences in applying CERCA in each content while the core is the same across the board.
Explicit efforts should be made to bridge the content specific language to CERCA -- the common language that will be used. For example, claim can be linked to language already being used: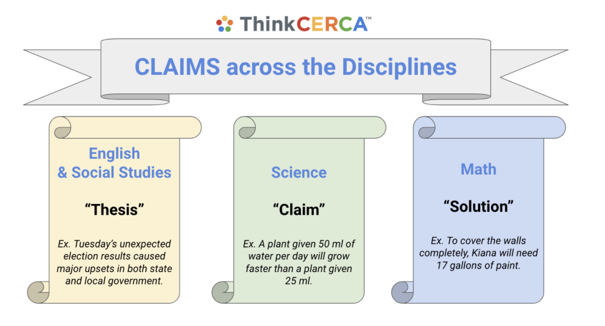 For the STEM content areas, here are some student worksheets that may be helpful in introducing how CERCA integrates into that discipline:
See more for each discipline: