Teaching Remotely? Check out our Resources for Taking ThinkCERCA Offline and our COVID-19 Lessons.
At ThinkCERCA, we understand that 1:1 technology access is not always guaranteed. Device or no device, students can still engage in critical thinking through the CERCA Framework using our Paper-based Writing Lesson and other offline resources.
When technology is not available, we recommend printing out or projecting the text of a Writing Lesson on the screen and have students complete each part of the lesson on paper. To download our paper-based Writing Lesson, click here.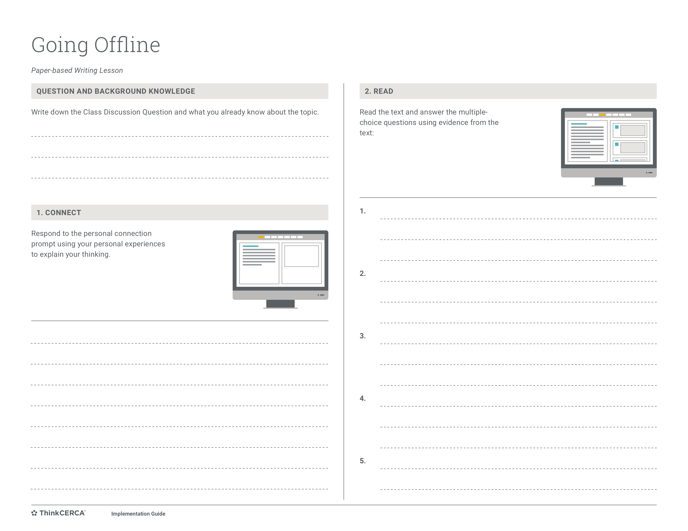 Our paper-based Writing Lesson outlines the six steps of a Writing Lesson. This can be used with one of the texts in ThinkCERCA or applied to an article of your choice to facilitate a rigorous analysis with your students.
Our Direct Instruction lessons can also be viewed whole-group. Consider providing students with a few questions to answer while viewing the Direct Instruction Lesson.
The Direct Instruction lesson, "An Introduction: What Is CERCA?" is a great place to start!
If you're just starting out, we encourage you to have fun while introducing the CERCA framework to your students. Watch these six videos with your students to learn about the CERCA Framework: Summarizing, Claims, Evidence, Reasoning, Counterargument, Audience.
Other CERCA Strategies to Try