ThinkCERCA is designed as a cross-curricular solution for literacy and critical thinking instruction. This means teachers in English language arts, science, social studies, and math can all use ThinkCERCA to support content knowledge and skills growth for their students—and, even better, you can collaborate with your colleagues across disciplines to use the cross-curricular connections within ThinkCERCA to create a cohesive, meaningful educational experience for your students. These connections can be thematic or topical as well as skills-based.
Planning
Writing Lessons, and the supporting Direct Instruction and Skills Lessons, are most effective when intentionally facilitated alongside student collaboration and discussion. Consider which of your units or lessons would be enriched by asking students to complete a rigorous text analysis or participate in a class discussion. Here are some questions to consider when aligning ThinkCERCA to your other curricula:
Is there a unit or lesson this year that would support or could leverage a ThinkCERCA Writing Lesson?
Is there a lesson or unit in which you'd like to incorporate CERCA, class discussion, or more critical thinking?
What will grading and feedback look like?
When will you reflect and assess the success of using ThinkCERCA?
Finding the Right Writing Lesson(s)
Remember, ThinkCERCA provides filters and a search button for you to find additional lessons to connect with your curriculum. To search by standard, click on the "Browse" tab in the Library.
For example, if you were looking for narrative writing lessons, select your grade level and choose Narrative Writing in the "Focus" filter. Then, a list of narrative writing lessons will be generated.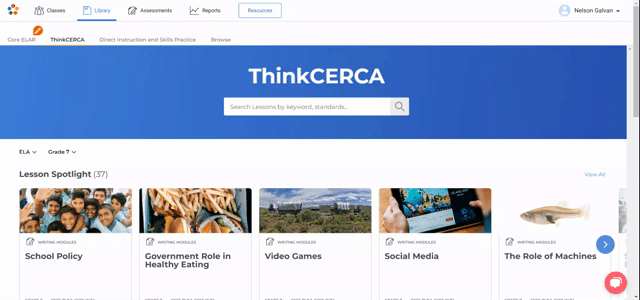 We've gone ahead and created a library of Curriculum Alignments. In this library, you'll find a multitude of alignments, including EngageNY, Wit & Wisdom, and HMH Collections.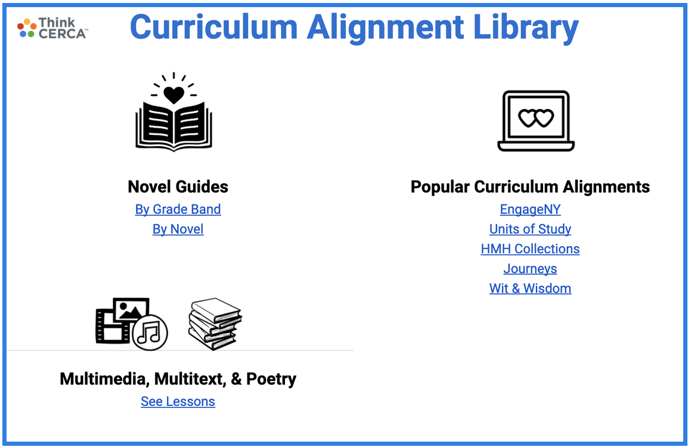 Here is a curriculum alignment planning example you can use to drive your thinking.